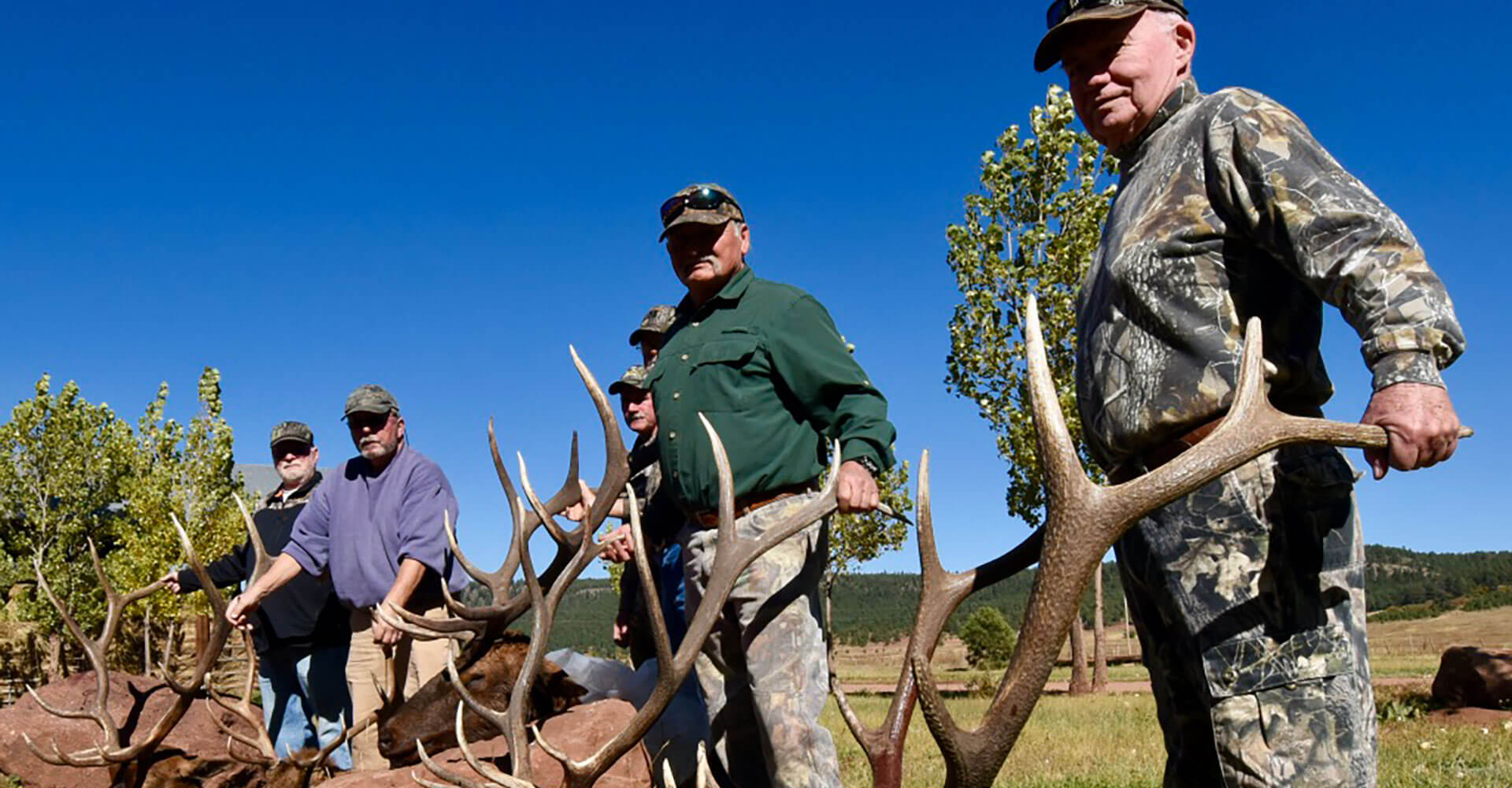 Nav BG
New Mexico Elk Hunting Ranch
See our hunt schedule and 2023 pricing here.
Wheaton Creek Ranch is a New Mexico private elk hunting ranch providing experienced outfitting and guide services as well as a variety of the best accommodations and facilities in New Mexico. Unlike many other New Mexico outfitters and guides offering private land hunts on contracted lands they only visit a few weeks on a year, we hunt the private land within our ranch which we live and work on all year round. We are intimately aware of the movements of the elk herds as well as the habits of the largest bulls in those herds.
Wheaton Creek Ranch Hunting History
Wheaton Creek Ranch is a family owned and operated hunting and vacation resort as well as a working cattle ranch. The ranch was purchased in 1980 when cattle and deer dominated the area. At that time, the elk had only recently (the mid 1950's) been reintroduced in New Mexico and were just beginning to take hold. It was a time when the ranch received only limited tags and sightings of the majestic animals were a rare occurrence. Some areas of New Mexico and Colorado proved to be excellent habitat for the newly introduced Rocky Mountain Elk species and the population exploded. The Ranch is a prime example. Today, the Ranch's management objectives are focused on improving wildlife habitat as well as the health and wellbeing of its Elk, Deer and Turkey populations. The ranch currently receives around 250 elk permits a year which is an indication of the success of these efforts and the incredible habitat within the Ranch. In 2014 we introduced our exclusive outfitter and guide service and our guided hunters enjoyed over 95% opportunity. Our either sex archery hunts kicked off the hunting season with everyone "being in elk" and enjoying the unforgettable experience of "the rut" with our largest bull elk harvested mounting a 362. Our Guided Rifle Hunts followed with a 95% overall success rate. The average bull elk harvest scores were 270. In 2015 our hunters enjoyed the same quality hunt experience with an even higher average bull harvest score of 280.
We specialize in providing our hunters with the excitement of a fair chase hunt in a beautiful mountain environment while enjoying first class food, accommodations and excellent service! We encourage wife's and other non-hunting guests to come and enjoy the experience!