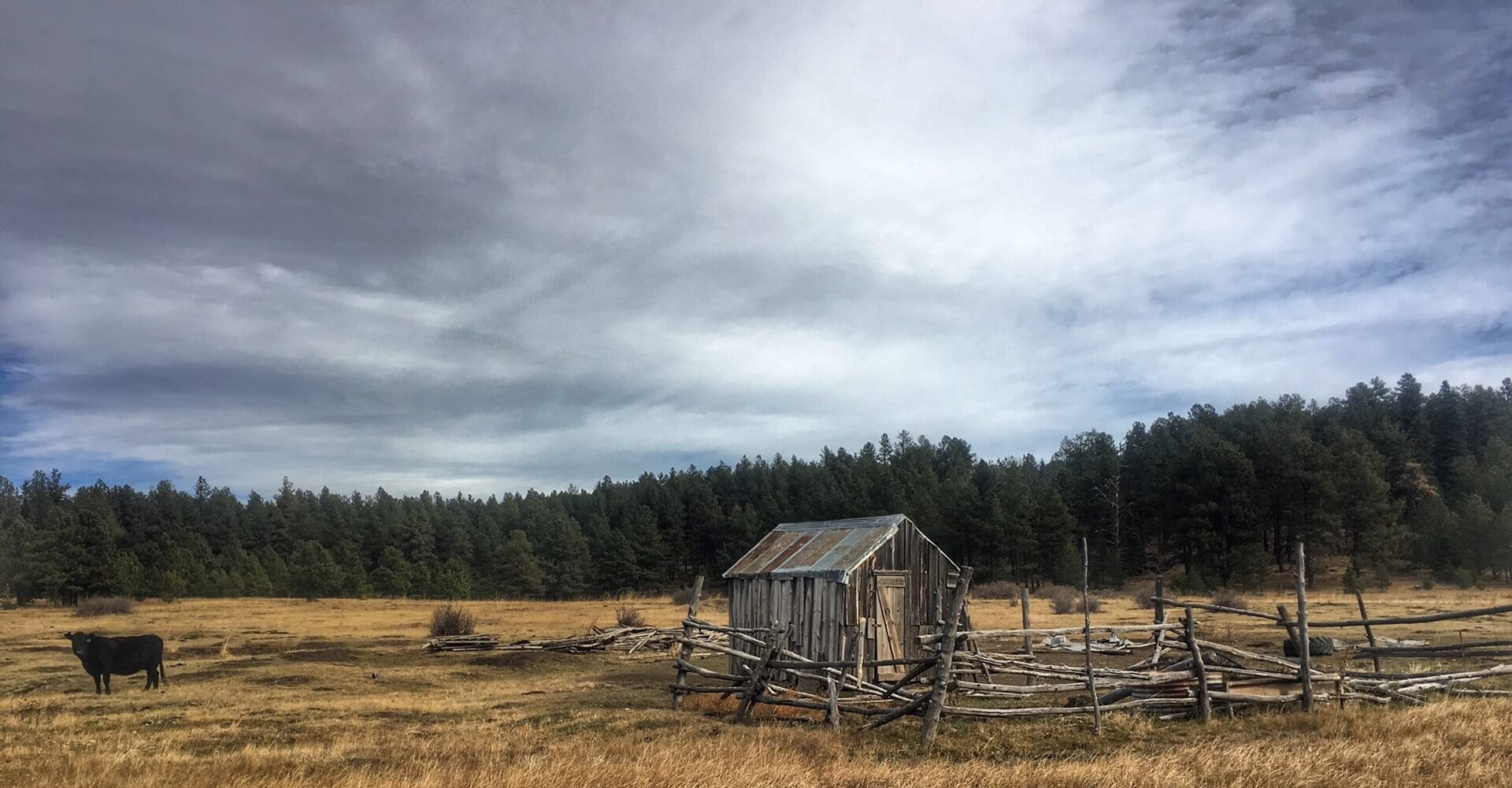 Nav BG
Wheaton Creek Ranch - Testimonials
Here's what a few of our customers have had to say about us.
Have a testimonial of your own to share?
Send a Testimonial
Rudy
Spring 2023 - Ocate, New Mexico
This outfitter is top notch in all aspects. Lodging is premier, meals are delicious, guides are knowledgeable and very relaxed. I did a Turkey hunt and recommend this for anyone looking for a successful luxury hunt of any kind. The staff that greeted me were very welcoming and made me very comfortable.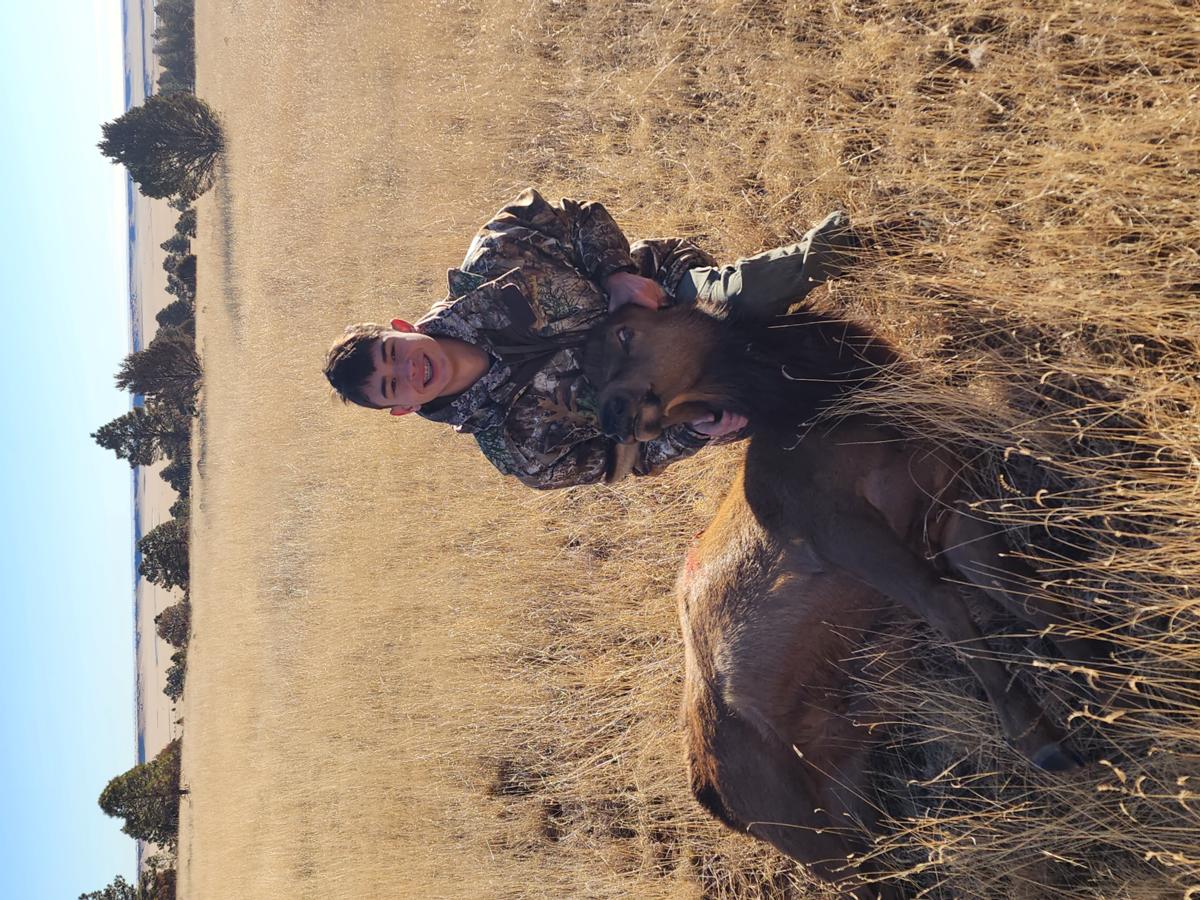 Jonathan Wise
winter 2023 - Fort Mill, SC
What a great experience. My 15 year old son and I went on a cow elk hunt in January 2023. The ranch is beautiful. Everyone that works on the ranch was great. Our guide, Matthew, was personable, professional, and made sure that my son was able to get a shot at his first elk. Matthew made sure to make a big deal out of this very special accomplishment. The look on my son's face when he downed his elk was priceless. The other people that work on the ranch are all also wonderful. We all ate our meals together and I really enjoyed the converstations and family like feel that created. The food was tasty and plentiful. Room was comfortable and the view was incredible. It was a special time that I believe we will both remember for the rest of our lives. I hope to go back soon and bring my father with me next time.
doug mitchell
3rd season Rifle 2022 - Palmetto Fl.
Our adventure started with the airline canceling our connecting flight to New Mexico so after a 13 hour drive from Houston and and a quick stop at Cabela's to get some hunting clothes and another 3 hours in the car we made it to the Lodge. Thanks to the guide Phil we had a borrowed rifle for the 2 of us we headed out the next morning at 6am. Our guide Chuck put us a few cows the first morning and more in the afternoon the first day. Another hunter Mike, (thesodfather) scored the first morning and graciously offered us his rifle so we both had weapons. Thanks Mike. Second day more cows but another success from the group, another morning bull down. The second afternoon we joked about having both of us shoot on a 3-2-1 count down if we found more bulls. Chuck worked his magic and found us a group of 4 bulls just after lunch. We were able to drop two of them both double lung heart shots both dropped within 25 yards. What a fantastic hunt from Wheaton Creek Ranch. We will never forget our first elks thanks to the efforts of our guide Chuck and the others in the lodge, Phil and David coming to rescue with the recovery vehicle and hauling them back to the lodge. Thanks to everyone at Wheaton Creek Ranch turning our travel disaster into a great experience. It's more than just getting out and shooting an Elk it's the people that make the adventure great.
Ralph J Pollock
fall mule deer - Ocate, New Mexico
Though my son and I weren't there long, the owner, guides and other workers were very hospitable and helpful. My guide was Chuck and I would go hunting with him again. I appreciated the way the guides helped one another when a client filled their tag. The food was excellent the accommodations were very comfortable and nice.
Evan Green
Fall 2022 - Ocate new Mexico
This was my second elk hunt all in all it was very enjoyable I tagged out on the evening of the first day my guide Danny was really great put me right on the bull would definitely recommend coming would also come here again as far as the food goes it was excellent the actual lodge were super nice and comfortable basically everything a guy could want awesome hunt and stay at the lodge
Jay Taylor
Fall 2022 - Georgetown Ohio
Lodge was nice. Rooms were spacious. Food was sub par to say the least. We spent 5 nights at a cattle ranch hunting elk. Never had elk or beef for supper. Guides were professional and accommodating however they couldn't find any bulls on Wheaton property. They were on neighboring property. We saw more state hunters and trespassers than bull elk. I never had a shot opportunity in 4 days of hunting. That's probably best as I was never given the opportunity to check my rifle. A rather expensive and frustrating tour of some beautiful mountain country in New Mexico.
David Preble
fall/2021 - elkhorn,nebraska
Had a super good time at Wheaton Creek Ranch on an elk hunt. Dave, Aveh and their staff were more than accommodating. The rooms and meals were over the top and the ranch is beautiful. Our guide went out of his way to take care of us on the hunt as I am a heart patient. The hunt was a successful harvest and I can't wait to go back again.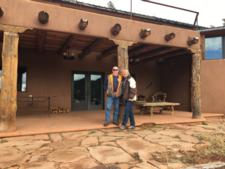 Keith and Cindra Cochran
January 2020 - Visalia CA
Absolutely the best stay/hunt we have experienced. From the guides to the chef to the accommodation - great time, great experience. Cannot say enough about how comfortable, relaxing, and welcoming everyone was. Looking forward to next year!!
Duane Hannasch
Winter 2019 - Bulverde, TX
Just got home from a great 5 day cow hunt. A tough first couple of days, but we finally found the herd of 200+ cows and now have elk in the freezer till next years hunt. A big Thank You to David and his staff. All were very friendly and the accommodations as usual were outstanding. This was my 5th year and hope to return again next year.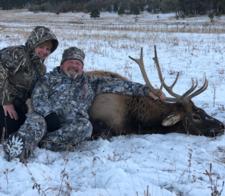 Mary LeSesne
Fall 2019 - Blue Ridge,Ga
My husband and I went on a guided elk hunt Oct 27-31 at Wheaton Creek Ranch ,We had excellent hunt, we were able to see lot of elk and we were successful ! The service we received from David Stanley and his staff was wonderful, It was a very clean , fun ,friendly atmosphere , We will most definitely be back! I would definitely recommend this ranch.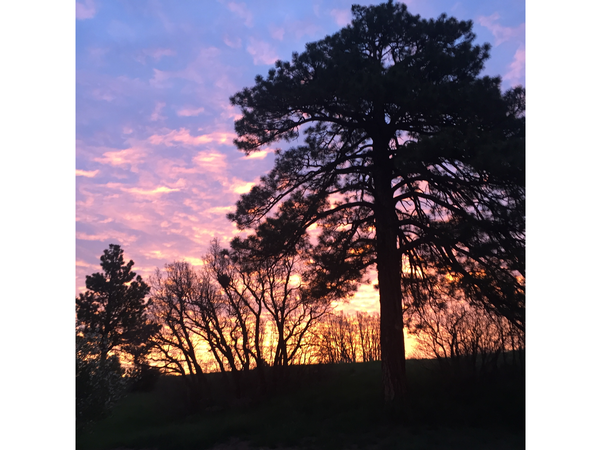 Jeremy Davis
Mid May 2019 - Bluff Dale, TX
Wheaton Creek Ranch or the 3 Bar S... or what ever you wanna call it... I've dubbed it my home away from home! This country is amazing! The views are inspiring and a more picturesque setting would be hard to find. It's a great example of our God's awesome power and his wisdom in creation. If that weren't enough... the accommodations at this place are second to none. The stuccoed living quarters are spacious and furnished to the hilt with a distinctively warm and rustic "New Mexican" feel. Owner David Stanley spared no expense when it came to lodging on this beautiful property. Even the walls of his establishment are adorned with his own paintings of the surrounding landscapes on Wheaton Creek Ranch. Through a skilled brush he effectively brings the outdoors, in. The main lodge area is nestled amongst a small grove of apple trees which were in full, showy white bloom while we were there. Having a beautifully laid out courtyard with flagstone walkways meandering through a yard interspersed by spruce, cottonwood and quaking aspen trees. A burbling brook trickles it's way through the grounds connecting crystal clear ponds, one to another, and is teaming with a number of small fish. There's just something mesmerizing about the creek's sound as you swing in the swaying hammocks strung tautly from tree to tree that ensures a peaceful nap around siesta time! A plush green carpet of Kentucky Bluegrass will cushion your feet should you decide to "barefoot it" down to the hot tub cabana. "Soaking in" both the hot tub and the views of a grassy valley stretched below the incline of Hall's Peak is so nice. What a place to kickback and relax! So if you're looking for a place to "get away from it all" and get back in touch with the natural beauty of God's creation, I can think of no better place to do so... trust me... you won't be disappointed! Sincerely, The Davis Family
Rick Thomas
Spring 2019 - Ocate, New Mexico
First opportunity to stay and hunt with Wheaton Creek Ranch. While I was not successful in my Merriams turkey hunt, birds had just moved too far this spring, the lodge was amazing to stay and the staff, Brad and Dave, were very accommodating. The guide, Shaun, worked real hard to put us on birds. I am looking forward to booking an elk hunt for 2020!
Jason
Winter 2019 - Ocate
What great experience!!! this is my 2nd year elk hunt at this Ranch. Staff is fantastic rooms are cleaned everyday. Just to say Freezer is full!! Looking forward to this next season. Thanks again Weatoncreek ranch Jason
Phil
January, 2019. Elk hunt - Rio Rancho, New Mexico
Just got back from another successful elk hunt at Wheaton Creek Ranch. As usual the accommodations were outstanding and the ranch personnel were friendly and attentive. I would recommend this to anyone looking for a great hunting experience in northern New Mexico.
Robert Curtis
Mid November Elk Hunt - Fort Worth, Texas
I've been hunting the Wheaton Creek Ranch since 1999. Twice in that time I hunted Colorado, as I did last year with old hunting buddies. I won't make that mistake a third time. We are set for the mid November elk hunt at the ranch this year, and I can't wait. Awesome place, people, experiences.
Send us a Testimonial
To our past clients: We appreciate your comments and if you would, fill out the form with comments and a photo about your experience at Wheaton Creek Ranch. Fields marked with * are required. Please enter the Name field how you want your name to read on our website (Examples: John Doe, J. Doe, John D., John Doe Corporation).